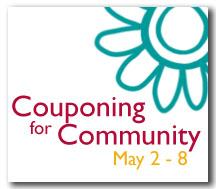 I wanted to share with you all a fabulous idea Kayla from
Cha Ching On A Shoestring
came up with. What if all of we, couponers, made a united stand to give to others in need from our abundance in our stockpiles together? We have all been so blessed through using coupons and getting deals wouldn't it be fun to give to someone we know in need a blessing from our goodies? There are lots of things we can do to give. If there is a homeless shelter, soup kitchen or family you know that has hit hard times in the past year consider giving them some gifts from your stockpile. Whether it is a few items or boxes full it does not matter, just consider giving. I know for me choosing to give, reminds me that we have been blessed that we might also be a blessing to others.
Want to join in?
Here are some ways to take part this week:
Join the Couponing for Communities Facebook Event-There are lots of bloggers and blog readers coming together to focus on giving. On the Couponing for Communities facebook page, you can find encouragement as we will all be giving alongside one another.
Make a plan-Who would you like to give to? A homeless shelter? A soup kitchen? A family you know in need? Take a picture of what you are giving and post on the Couponing for Communities Facebook page that others might be encouraged by your giving. Won't it be encouraging to see all the blessings going out to those in need?
On Saturday May 8th, go by Cha Ching On A Shoestring and link up your post for Couponing for Communities or share in the comment section about your experience.
Remember that next week is the national Stamp Out Hunger Food Drive as well. You can leave a bag of food goodies by your mail box and your mail carrier will pick them up on his route. To learn more check out the Stamp Out Hunger Facebook page.
I know many of you already are giving on a regular basis but I thought this would be a fun way to give together and also, be encouraged with how others are giving as well! We are traveling this week for my husband's job but I am looking for ways we can give on the go. Looking forward to sharing it with you all!
How would you like to participate this week?